The quality of your home or business' indoor air can directly both the health and comfort of the individuals within your household or business. Common airborne contaminants, such as dust, dust mites, dirt, pollen, and any other type of debris, can infiltrate your residential or commercial structure and result in the worsening of allergies and other respiratory conditions, as well as a decrease in the level of indoor comfort. Gordon's Heating & Air provides a wide range of HVAC services to help improve your indoor air quality (IAQ)
To achieve healthier, cleaner air or to schedule heating and cooling system services, contact our AC company in Savannah.
Change The Air Filter
There are a number of benefits associated with regularly replacing your home or business' HVAC air filters — it promotes proper system function; saves money on utility bills, and provides significant improvements to indoor air quality. Over time, and with regular use of the heating and cooling system, airborne contaminants build-up and eventually clog air filters, resulting in a lower degree of indoor pollutant absorption and a higher likelihood of the need for regular air conditioner repair and furnace repair.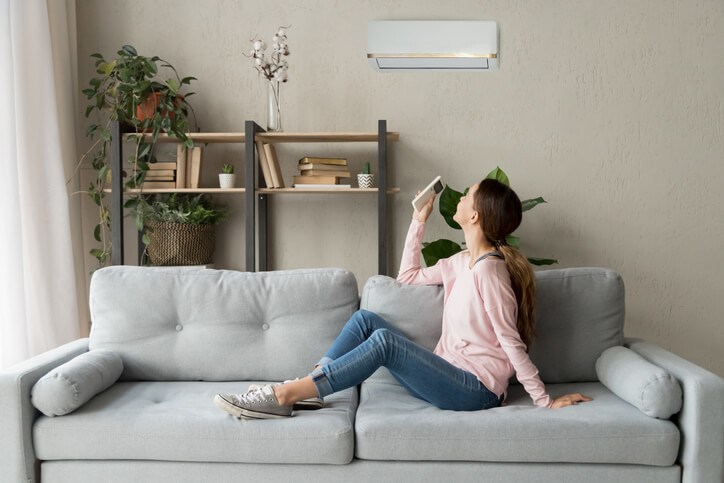 How often the air filters require replacement largely depends upon the specific type and model of the HVAC system and the air quality needs of those who spend time within the space. As a general rule, individuals who suffer from severe allergies and regularly use their system should change the filter approximately once per month and integrate high-efficiency particulate air (HEPA) filters to ensure optimal results.
Ensure Proper Ventilation
Poor ventilation in any type of indoor structure can contribute to low IAQ. Indoor spaces that frequently experience high levels of moisture, such as the kitchen and bathroom, should be ventilated regularly in order to prevent the growth and spread of mold and mildew and to help promote an adequate level of indoor humidity in the home or business. To improve indoor air quality, be sure to periodically inspect the vents both within and around the property. Obstructed or closed vents often result in an unequal distribution of air from the HVAC system, which causes it to work overtime to meet the pre-set indoor heating or cooling demands. If the vents are blocked by debris, remove the obstructing items and ensure adequate space around the vent to avoid blockages in the future.
Control Moisture Levels
Humidity levels can affect both outdoor and indoor comfort. Even if the air conditioner is on, indoor humidity can wreak havoc on the quality of your indoor air and work against efforts to create a comfortable, inviting environment. Warm, wet conditions also provide an optimal breeding ground for mold, mildew, and other moisture-loving indoor contaminants and particles. The ideal level of relative humidity for your indoor space is between 40 percent and 60 percent — indoor humidity levels within this rage promotes easy breathing, moisturized skin, and healthier body functions. To adequately adjust and monitor the level of humidity in your home or business, consider installing a dehumidifier. These systems extract moisture from the air and deposit the removed water into a mess-free vessel that can easily be emptied. Gordon's Heating & Air can help you determine whether a portable dehumidifier or central-home humidifier is best for your structure — contact us to speak with our NATE-certified technicians.
Install An Air Purifier
In addition to home or business owners who seek to purify their indoor air for the sake of preventative health, individuals who suffer from seasonal or year-round allergens can benefit from introducing an appliance that effectively cleans and sanitizes the air into indoor spaces — another easy way to achieve high indoor air quality standards is with an air purification system. A whole-home air purifier or air cleaner can trap 98 percent of dust, 96 percent of pollen and mold spores, and 95 percent of the bacteria in indoor air. These systems control dust, provide total-home comfort, remove allergens, and help boost IAQ levels. Our technicians can help you select the best product for your space and we can professionally install the system for optimal function and clean, healthy air throughout the year.
Keep Up With HVAC Maintenance
Among the best ways to boost the quality of your indoor air is with professional HVAC maintenance. Improving your home's IAQ will help you ensure that you and your family or employees are protected from harmful allergens, pollutants, and bacteria which can pose negative effects on all types of heating and cooling systems. Our technicians offer indoor air quality testing, among a wide range of HVAC services to help ensure the best quality of air possible throughout your indoor structure. What's more, customers who join the Comfort Club can take advantage of discounts on all indoor air quality systems and services! For more information, or to schedule HVAC services in Savannah, contact us today.