A/C System Services
A traditional home comfort system has two parts: an indoor unit, such as a furnace or air handler, and an outdoor unit. An air conditioner is the outdoor unit that cools air and sends it to the indoor unit for circulation throughout your home. Indoor and outdoor units are designed to work together. When the air conditioner is properly matched with a furnace or air handler, you get maximum efficiency and longer system life.
Heating System Services
In a packaged system, all equipment is built into an outdoor unit, usually on a concrete slab or other platform. The "package" that gives it its name provides central air conditioning during the summer and heat in the colder months. Furnaces heat and circulate warm air in the winter. Furnace heating ability is measured with an Annual Fuel Utilization Efficiency (AFUE) percentage.
SCHEDULE SERVICE TODAY!
Residential & Light Commercial HVAC Repair & Services
We know how crucial heating and cooling systems are for your comfort at home or work. Our technicians can repair most major brands of air conditioning units, heat pumps, and furnaces. We fix common problems stemming from ordinary wear and tear, frequent cycling, mechanical or electrical issues, and lack of maintenance.
Planned Maintenance & Energy Savings
Planned maintenance is one of the best ways to ensure heating and cooling systems continue to work properly without wasting extra energy. Join Gordons Heating and Air LLC's Comfort Club which includes annual maintenance sessions, discounts on repairs and replacements, and more benefits.
New HVAC System Installations
We can help you find the ideal system for your home or business, give a free estimation, and install any new heating and cooling equipment. Some features to consider while looking for new systems are:
Ductless Mini-Split Systems
Mini-splits are useful for zoning or heating and cooling individual rooms. They have two main components: an outdoor compressor/condenser and a number of indoor air-handling units connected to the outdoor unit. This number depends on the size and zoning necessities of each home and the quality of the building's insulation and air sealing. Each zone has its own thermostat, which saves energy and money by conditioning only occupied rooms.
Mini-split systems are ideal for homes with ductless heating systems, including hydronic (hot water) systems, radiant panels, and space heaters (wood, kerosene, propane). They are also a good option for room additions when installing distribution ductwork is not feasible. Ductless mini-split systems are relatively easy to install, requiring only a three-inch hole in the wall for the conduit and offering the possibility of locating the outdoor unit as far as 50 feet away from the indoor evaporator.
We are familiar with ENERGY STAR® compliant units and qualified to install them in your home.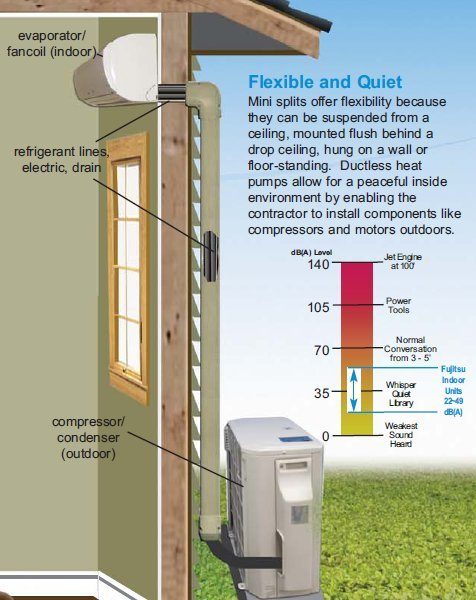 SEER Ratings
The Seasonal Energy Efficiency Ratio (SEER) is a standard measurement of the efficiency of the cooling process of air conditioners and heat pumps. Bryant® offers air conditioners with SEER ratings up to 20.5.
HVAC Zoning
Zoning allows for different temperatures in each room or area of a home or business. Not only does this provide much more comfort but zoning can save up to 20 percent per year in annual operating costs because heating or cooling isn't wasted in unoccupied areas. The operating cost savings could be the equivalent to going from a 13 SEER air conditioning system to a 15 SEER system.
Evolution System
Bryant's Evolution® System is an advanced communicating system capable of delivering high-efficiency performance and total home comfort in both warm and cold conditions. It can give you more control of temperature, humidity, indoor air quality, fan speed, and ventilation in your home. As a communicating system, it can even detect when it needs service or when a component needs to be replaced.
Indoor Air Quality
It's easy to achieve clean, breathable air in your home with UV Light. Homes and especially commercial buildings such as offices can have a surprisingly high amount of fungi in the air. UV lights can significantly lower the levels of fungi. Changing filters in your HVAC system can also help improve indoor air quality and ensure your home is free of dust. Pollution, dust, debris, mold, dander and other particulates can accumulate within your home or place of business, which is why it's so important to keep indoor air quality in mind. Poor indoor air quality can exacerbate allergies, asthma, lung cancer and even heart conditions.
Dehumidifiers
Dehumidification can be important if you live in areas of high humidity. High humidity in cooler temperatures creates a wet clammy feeling and in warmer temperatures causes a wet sticky feeling. It also causes perspiration to stay on your body and soak into your clothes rather than evaporate.
High humidity can also cause mold & mildew throughout a home or business and even ruin expensive clothes, fabrics, paintings, and wall coverings. All air-conditioning units take out some humidity when operating. But in very humid areas, this is not enough and a dehumidifying system is needed. Dehumidifiers can remove up to 15 times more water from the air than a standard system with little operating cost penalty.
Air Cleaners
Be sure your home's air is clear of dust, pollen, fungi, smoke, and other particles too small to see. It's easy with an Aprilaire, HEPA, Electronic, or Media Air Cleaner. These cleaners provide stepped-up filtration, more effective than a furnace or air conditioner alone. In fact, air cleaners can remove up to 94 percent of the particles that pass through a residential or commercial HVAC system. And since these pollutants can build up as a film on walls and furniture, this is performance you'll feel and see.
Air Handlers
A traditional home comfort system has two parts: an outdoor unit (such as an air conditioner or heat pump) and an indoor unit. The air handler is the indoor unit that circulates cool air through the building in the summer and warm air in the winter. The indoor and outdoor units are designed to work together. Air handlers supply conditioned air evenly throughout the home or business when used in place of a furnace, with either an air conditioning or heat pump system.
Evaporator Coils
The evaporator coil is a series of piping connected to a furnace or air handler that blows indoor air across it, causing the coil to absorb heat from the air. Cooled air is then delivered through ducts. The refrigerant then flows back to the compressor where the cycle starts over again.
Thermostats
Thermostats are extremely important because they are the interface and control system for the heating and air conditioning equipment. This is the device that displays information on what the equipment is doing, and when it needs to be serviced and allows you to set the exact temperature and humidity to maintain in the home or business.
Air Purifiers
Ultraviolet air treatment systems kill mold that would grow in the cool, damp interiors of your air conditioning system. This is the same technology that's long been used by water treatment facilities, adapted for safe, efficient home air purifiers.
Thermostats & Accessories
As today's home and business owners demand reduced energy use as well as increased convenience and connectivity from the products they depend on, Bryant® delivers with the Housewise Thermostat. With average heating and cooling savings of 20 percent, a user-friendly touchscreen, and Wi-Fi connectivity, this modern thermostat emulates the look of a tablet or smartphone and allows you to control your home's comfort from anywhere. As your trusted Bryant dealer, Gordon's Heating & Air can install this device in your home or business. We also offer surge protectors and corrosion grenades to preserve your comfort investments.
Free Estimates
During consultations, we can inspect your comfort system, recommend devices that fit your lifestyle and needs, determine whether parts of the system need maintenance, repair, or replacement, and provide cost estimates for installations, maintenance, and repairs.
SCHEDULE SERVICE TODAY!
AC Service, AC Repair & Air Conditioner Repair

Savannah, GA, Eden, GA, Meldrim, GA, Bloomingdale, GA, Pooler, GA & Black Creek, GA
Air Conditioning Repair & AC Installation in Guyton, GA: Port Wentworth, GA
Air Conditioning Repair

∴

AC Service

∴

A/C Maintenance